Discussion Starter
·
#1
·
Hey folks,
I got to thinking the other day...
we're about to take a long road trip, one where I'm going to need my Droid X for both navigation, and possibly a little Pandora action for tunes.
The usual Craigslist and eBay search yielded little for phone mounts...
so I got creative.
This idea *should* work for Droids, iPhones, etc. Heck, even ipod touches might work in this car mount.
Things you'll need:
- Insulated Wire from Lowe's or Home Depot. Make sure it's pretty stiff, because it needs to hold your phone over the bumps and thumps as you drive. It needs to be insulated, so the soft, rubbery insulating material is the part touching your precious phone.
- Small block of wood. I used one that was 1.5"X.75"X5"
The 1.5" is the most important part...it's the part that will provide the stability of the whole rig. Measure it carefully...my little dash cubby is NOT stock because of my Alpine deck. So figure out what height of block will fit snugly.
The 5" part is how far out it will come from the dash. Adjust to taste.
- Zip ties, screws, a bajillion rubber bands. This will hold your wire frame to the block. I used zip ties.
Fashion the wire into a 3-loop form, as seen below.
I was originally going to use 4 loops...one on each corner.
Three ended up being better...that way you can just lift the top loop and pop your phone out. Be sure to watch the clearance for your charging or audio ports.
If you have a set of needle nose pliers, you might find this task a bit easier.
I held my phone and kind of measured out the loop length...too long, and it will get in the way of your screen, too short and your phone will slip out.
The more robust your wire, the harder it will be to work with.
On the flip side, if it's pretty stiff, it's going to hold your phone that much better, and be that much more resilient.
I added a little twist before routing the two "legs" down the sides of the block...just adds a little strength it seems.
At this point, I tested my wire mount. I stuck the phone in it, and made sure it was good and secure. Then I grabbed the "legs" and held the whole thing over the couch, and shook it a bit to imitate the bumpiness of a bad road. It held fast, so I figured I was good to go from there.
Next step: strap the wire mount to the block using the zip ties as demonstrated. I've only got two here, and they're not trimmed, but before we go on the trip I'll add a third and whack the ends off. Make sure those zip ties are tight!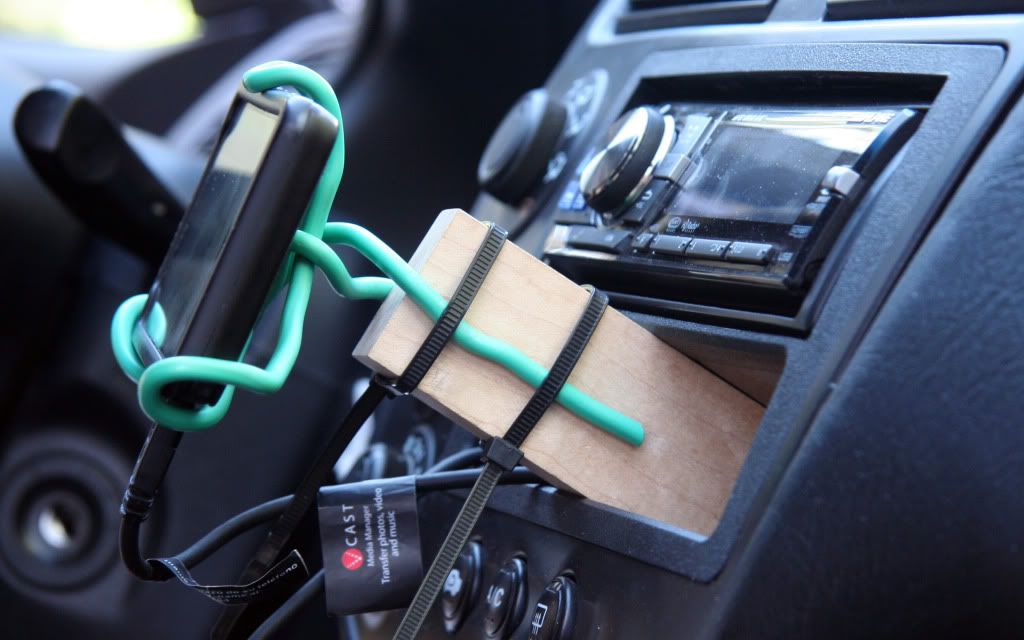 Route your wires or stuff them into the cubby like I did,
and shove your mount into the cubby.
My cubby is aftermarket plastic as part of the new deck spacer, so this particular block is nice and snug...perfectly so.
I'd suggest starting big, and working the block down with a belt sander if need be.
I just got lucky that mine fit as well as it did with no modding.
On my test drive tonight, I found that the mount did vibrate a tad...no too badly though.
I think routing the "legs" thru a piece of foam (cut like a fat washer) might help dampen the Vibration, but overall it's not too bad.
So there ya have it. A super cheap, uber ghetto, and fairly simply DIY car mount for your Droid X, Droid 2, iPhone, etc.
I use the Alpine aux-in for Pandora or voice Nav, and the power is easily routed up from the 12V adapter.
More pix below, thanks for looking, and let me know what you think!