Hey everyone, finally I got a chance to get this EP3 Cluster DIY. I know there have been a lot of people requesting for it and sorry for the slack I've been on. First I would like to begin saying that I am swapping a 02 civic to the EP3 one. I am assuming that the wires are located different from the 04 05 models. The great thing about this swap that I found out was that EP3 cluster pigtail plugs will plug onto our stock cluster. The only thing that you would need to worry about is repining the wires. It took me about 45 minutes to do everything carefully and nicely. Messing with electric wires, please remember to unplug the battery in case you accidently touch the wires together. It would probably blow up a fuse or something else and it will be an ass if you have a shortage somewhere. It didn't happen to me but just wanna throw this out there.
WARNING: IF YOU DO NOT LIKE TO HAVE GAP SHOWING I WOULDN'T RECOMMEND THIS SWAP FOR YOU. THE EP3 CLUSTER IS SMALLER THAN OURS. DOING THIS SWAP WILL HAVE ABOUT 1.5 INCH OF GAP BETWEEN THE SIDES. PLEASE LOOK AT THE PICS FOR DETAIL. LAST OF ALL DO IT ON YOUR OWN RISK.
I WILL POST UP THE STOCK PINOUT IF PEOPLE WOULD LIKE TO RETURN TO THEIR STOCK CLUSTER
I am writing from what I remember, correct/question me if I say anything thing that may be incorrect or confusing…
Tools needed
Four-Head Screw Driver: Used to unscrew and screw "screws"
Flat-Head Screw Driver: I used this to take off the cluster bazel once I get the screws out.
Paper clip: Taking out the pins off the cluster plugs
Electric tape: If needed
Step 1
If you know how to take off the cluster cover that would be a easy step to get by. Just unscrew the two screws located above the cluster bazel. If you would like to see some pictures of how to do this I will post up some if requested, but I would highly doubt that you will need pics of how to do this.
Step 2
Unscrew the three screws that is holding the cluster in place. Two of the screw is located on the left and right side. The third screw is above, look for it you'll see it.
Step 3
Unplug the two plugs. The plugs are color green and blue. Once you get them unplug the cluster should be easy to take out.
Step 4
This step you would need to repin both of the plugs. I happen to take all the pins off the pigtail plug and put them in one by one. Here is the wiring diagram…
Color Codes:
RED = Red
BLU = Blue
PNK = Pink
GRN = Green
YEL = Yellow
WHT = White
ORN = Orange
BLK = Black
Examples: RED/BLK= Red wire with black stripe
GRN/WHT = Green wire with white stripe..and so on
The EP3 and EM2 cluster wires are the same color and are the same thing, example, the Red/Blue is High Beam Indicator, on the EM2 and it is same thing on the EP3
EP3 Cluster
Connector A
- BLUE
1. USA, '02-'03 Canada: RED/YEL (Fuse 15 – Underhood) '04-'05 Canada: RED/GRN (+B L H/L)
2.
3.
4.
5.
6.
7.
8.
9.
10.
11. RED/BLU (High Beam Indicator)
12. BLU/RED (ABS)
13. YEL/BLU (EPS Indicator)
14. PNK (SRS)
15. Side Airbag: PNK/BLU (Side airbag cut-off indicator)
16.
17. Canada: WHT/BLU (Gauges and indicators)
18.
19.
20.
21.
22. GRN/YEL (Right turn signal indicator)
Connector B
- GREEN
1. WHT/RED (Fuse 9 – Under-hood)
2. YEL (Fuse 10 – Under-dash)
3. RED/BLK (Circuit 11)
4. BLU (Circuit E09)
5. BLU/WHT (Circuit E93)
6. RED (Circuit 12)
7.
8. GRN/ORN (DLC and MIL circuits)
9. YEL/RED (Low oil pressure indicator)
10. GRN/RED (Left turn signal indicator)
11. BLK (G502; Ground)
12. BLK (G502; Ground)
13. WHT/GRN (Gauges and indicators)
14.
15.
16.
17. Canada: PNK (Gauges and indicators)
18. YEL/BLK (Gauges and indicators)
19. BLU/ORN (Immobilizer system indicator)
20.
21.
22. BLU/YEL (Cruise Control indicator)
SORRY FOR SOME SLOPPY PICS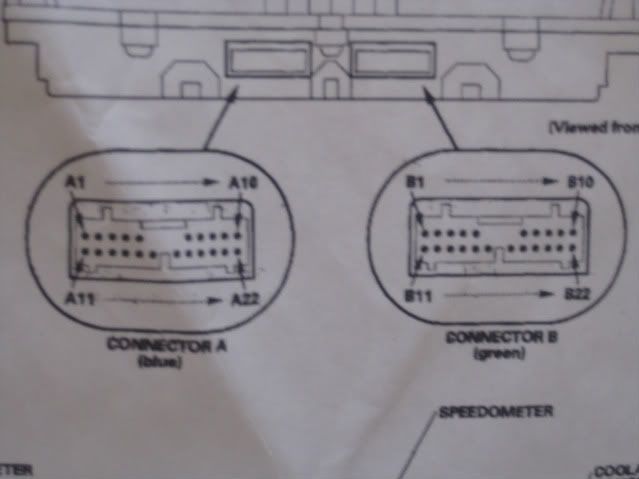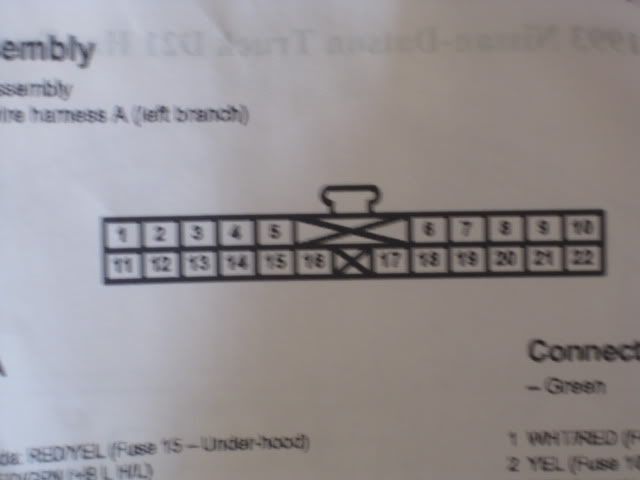 I REMEMEBR THERE WAS ABOUT FEW WIRES THAT WAS NOT USE BECAUSE THE EP3 CLUSTER DID NOT HAVE THAT COLOR.
Once you have everything pinned correctly see if it works correctly before putting everything back together.
Here are some pictures of how mines turn out to be like…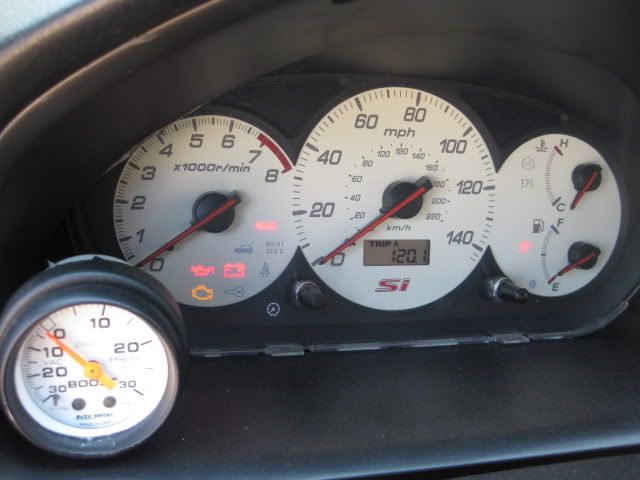 SPECIAL THANKS:
Speedfoos (Clint) : Trying to help me find the pin out when I needed them…
asianboi313, CarolinaHondas.com (Fongy) : A friend that has a shop where he has access to most of the wiring diagrams
You can thank me if you want…ahaha I think I am the first one to do this onto our civics.
Video:
http://www.youtube.com/watch?v=mcakl2mSwBs
PLEASE RATE
PLEASE POST PICS OF HOW YOURS TURN OUT TO BE ALSO… AND MOST OF ALL THANKS FOR VIEWING