I had mentioned this in another thread, but I feel it is important enough to start another. With so many of the 7th Gens being plagued with the crappy transmission, many of us go out and look for a decent used one that won't cost the same as the value of our cars at this age.
I was about to pull the trigger on a "JDM" used transmission. These transmissions are supposedly imported from Japan, and have 35k miles on them, and they go for CHEAP. The one I was looking at was $350, and I've seen them as low as $150! That sounds like a steal compared to the North American built transmissions with around 100K miles on them, which are selling for around $750 shipped give or take. Closer to $1000-1200 for one with lower miles.
I was looking at this one in particular.
http://www.ebay.com/itm/JDM-HONDA-C...ash=item236772234d:g:PT8AAOSwsB9V-EIz&vxp=mtr
So I decide to search a little more, and I found another guy selling the same transmissions, for about the same price.
http://www.ebay.com/itm/JDM-Honda-C...ash=item3ac3a8ee70:g:GGsAAOSwSgJXOIq4&vxp=mtr
What stuck out to me though, is this guy is covering his ass and actually putting a disclaimer up. It states
"
This is a Japanese imported transmission that is compatible with your 01-05 Honda Civic. In some cases you may get a error code P0740 (Torque converter lock up).
model The transmission will run and function 100% and we warranty the transmission but the North American computer sometimes will throw this code. Please make sure you are ok with this before purchasing."
There are ads on craigslist for these transmissions too.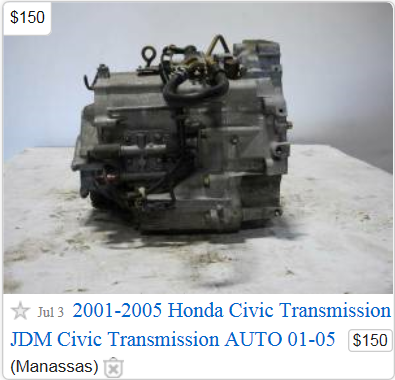 Further googling on this matter shows a number of people getting screwed over by buying these. One guy states that it drives fine, but when he gets over 50mph on the highway, the code comes on. Others are having significant issues where the torque converter won't lock up in addition to the P0740 code.
I believe I read that there is an incompatibility or something with the Japanese JDM transmission (SLXA) and the North American transmission (BMXA). Something like the Japanese version having D1, D2, D3, and D; while our cars only have D2, D3, and D. Therefore, the "JDM" transmission simply won't work without significant modifications. I'm sure all the JDM civic transmissions are SLXA, but not sure about others.
Even if the car runs, you won't pass safety inspection and emissions with a check engine light like that. Some people have gotten it to work a little bit by swapping back old parts, but their lights have not disappeared.
So I wanted to write this as a PSA. I hadn't heard about this pretty much scam in the past. I was very close to buying one, and thank god I didn't. It was tempting to get a transmission with low miles swapped in for around $700-800, but now it's looking like a high mileage one for $1000-$1300 is more likely. Don't think I want to spend that much on a used, high mileage 7th gen transmission on a 15 year old car.
Edit: Apparently this guy got his working by swapping in and out with old parts and reprogramming his ECU or something. Way too much work to think about when this is my only car. But if you insist, this may be some good info. I believe the key is having a VIN that starts with 1, which is American Made. Mine starts with 2 so I'm SOL.
http://honda-tech.com/honda-civic-2001-2005-78/d17a-w-auto-trans-need-help-3261240/
I apologize if I'm not allowed to link a thread from another forum.