Discussion Starter
•
#1
•
Well here comes the pics:
Tools needed:
Jack and Jack Stands
Air Compressor 200 psi 5 gal is the minimum needed
1/2 Impact gun
32MM 1/2 impact socket
10-19MM 3/8 drive
3/8 rachett
Impact driver to remove screws from rotors
32oz Ball Pin hammer
PB Blaster
10mm Line Wrench
17mm Box Wrench
Parts:
Front and Rear spindels (Base if d17, type s if Kswapped)
New Rotors
New pads if needed
Brake lines (Good time for steel bradied)
E-brake cables off an EP3
Front: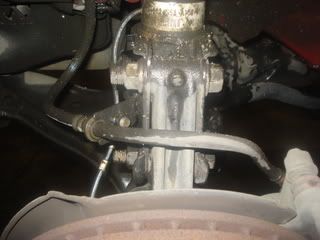 1:Remove the Nuts from the 2 bolts, Remove 32mm Axle nut and free axle from hub
2:Remove Cotter pin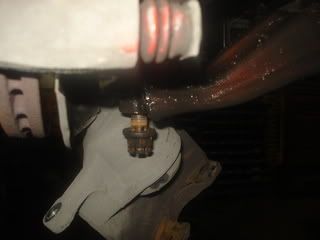 3:Loosen ball Joint castle nut and remove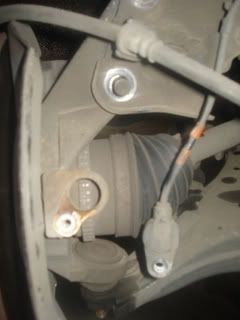 4: Remove the sensor CAREFULLY from spindle
5:Next part requires 2 people a large pry bar and a BFH (Big F-ing Hammer) 32oz ball pin work good
Place pry bar between ball joint and a-arm and push down. the red circle is the location for the bar: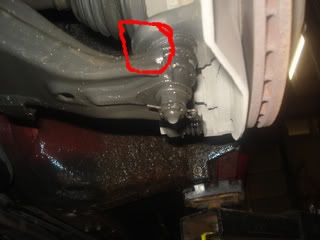 Begin to hit the a-arm on the other side untill ball joint is free. the red circle is where you need to hit:
Note: if you hit the ball joint that is ok because the new unit should have a ball joint in it, also you make see a little damage on the arm but it is ok so dont worry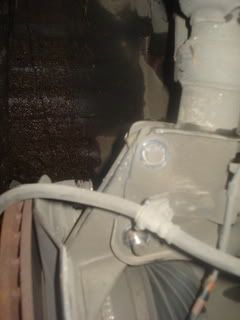 6:Remove the 2 bolts
Remove spindle. I forgot to take pics of the unit coming out
Do reverse for putting back together, Do a visual Alignment.
Rinse and repeat for other side
Rear:
For the Rear i have less pics but a lot easier to do vs the front.
1: Remove the speed sensor and ebrake cable from the drum(i cut my cable away from the drum) the rear sensor was a pain to remove just take your time use the pb to loosen rust
2: Remove old line with the 10mm line wrench (Its a good idea to soak all the bolts and Brake lines ends down with the PB)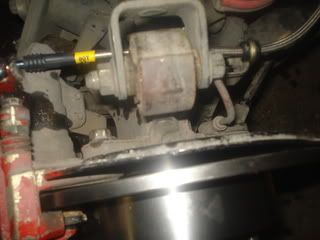 3: Remove the 3 bolts from pic one and remove unit.
To install just reverse.
For the brake line make sure there tight. When attaching the line to the calipers you should have two copper washers one goes between the bolt and line the other goes between line and caliper.
Once everything is tight bleed the brakes.
Next get an alignment.
If you have any other questions ask away.
I hope this helps
Dwayne